We organise charity projects and support people in need in various countries – wherever we are.
You can support us with a donation for a special project or in general by becoming a member of froh foundation.
The membership fees are entirely dedicated to our charity projects.
You need our support for a couse or person? 
Our charity projects since 2015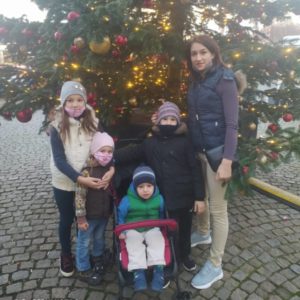 Urgent help for Marina and her for 4 children
We were very touched by the fate of Marina and her 4 children, their strength and courage impressed us.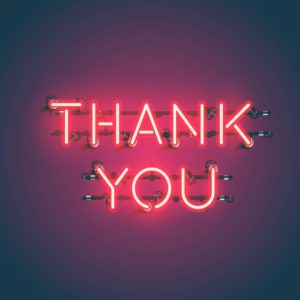 Our little friend Moritz was suffering from cancer. In order to support him and his family during the challenging time of chemo therapy and operations, we donated 100 euros per month from membership fees and participant fees to the family over the course of a year.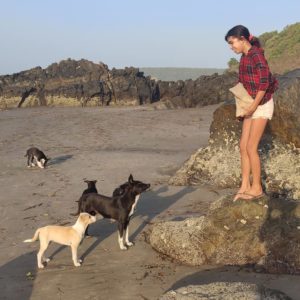 Food for street dogs in Goa, India
When tourist season is over street dogs in Goa do not get food any more. In 2020 we adopted a crowd of 14 dogs living on a hidden beach without food and water. 3 times a week we cook for them and bring water.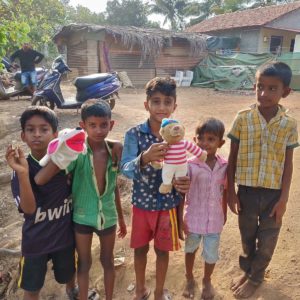 Support for stranded Migrant workers in Goa, India
Through the lockdown in Goa in the Covid-19 crises migrant workers from all over the India got stranded in Goa without any financial support. We provided in cooperation with a private initative food, clothes and toys fo a slum in Vagator, where 210 migrant workers and their families from Karnataka stayed.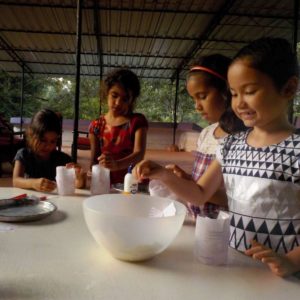 Workshops for Children in Goa, India
Every year we offer free creative, mindful and environmental workshops for children in Goa, India. The variety of activities ranges from Gong Sound Baths, over baking organic Christmas cookies and making our own healthy Müsli to gardening projects, movie making lessons and the creation of self-organized learning spaces.
Online Kinesiology Sessions, Australia
We offered free Insights Kinesiology Online Sessions for people affected by the bushfires in Australia in 2019. Through the treatment acute stress symptoms could be released and we supported the clients in finding new perspectives and see new chances in this difficult life situation.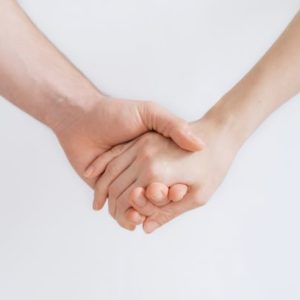 Urgent individual help for tourists in Goa
We provide donations up to 100 Euro for people who face challenging life situations and reach out to us.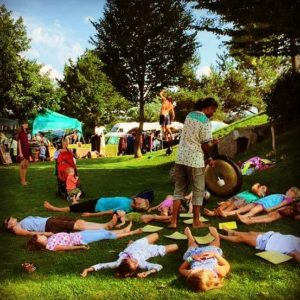 Kids Space at Heart Culture Festival, Austria
To support this beautiful festival of heart energy and provide mindful acitivities for children and parents we held our workshop "A day in India" and Gong Sound Baths in the Kids Space of the Heart Culture Festival in Großsteinbach in Austria in 2018 and 2019.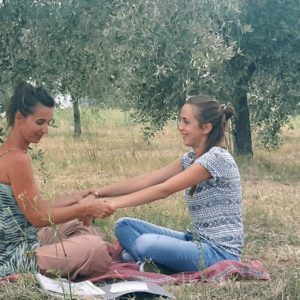 Agni Hotra Workshop, Croatia
In cooperation with "istrian de dignan – ecomuseum" we held free Agni Hotra Workshops in 2017 and 2018 with volunteers and interested local people. This ancient ayurvedic fire ceremony aims for personal and global nourishment. The participants also benefited through a Gong Shower and an introduction to Insights Kinesiology®.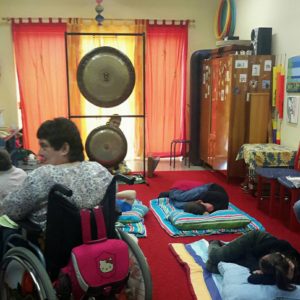 Gong Baths for people with a broad spectrum, Austria
In 2017 we held a sound healing day in the Simultania Centre in Judenburg to introduce the beneficial effects of the sound of the Gongs to people with special needs and unique challenges. The feedback of one participant: "I felt like travelling with the angels", describes this day full of revelations and joy for everyone involved best.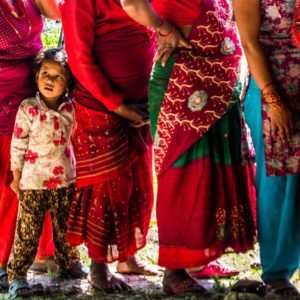 Insights Kinesiology® Training, Nepal
After the Earthquake in Nepal in 2015 we held a 1 week free Insights Kinesiology Training® (Level 1-3) and Gong Sound Healing sessions for 6 Nepalese people to teach them how to provide support for people with post traumatic symtoms after experiencing shock, loss and existential fears through the earthquake.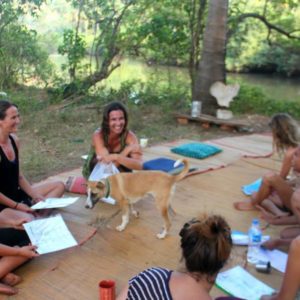 Insights Kinesiology® Training for "I love Goa Dogs", India
In 2015, we ran a free 3 day Insights Kinesiology® training for the volunteers of the Indian initiative "I love Goa Dogs". They care for the street dogs in Goa and provide them with food, medicine, care, sterilization and rehoming. With the help of the kinesiology surrogate testing technique they can test the kind of needed treatment as well as support the cats and dogs to overcome their traumatic experiences and come into a calm state.
the best way to find yourself is to lose yourself in the service for others
Become a member, gain access to our activities and support our charity work

As an Austrian non-profit organisation we offer our activities exclusive for our members from all over the world. Become a member and gain access to the full range of our workshops, trainings, sessions and other services. With your membership fee you support our charity projects.
As a part of our community we also provide you with "abundance payment" – you can pay what you want and can. You also get special gifts: reduced tickets and vouchers for your friends and we keep you updated about our programs.
Join us in all upcoming events during your membership period in "Abundance Payment mode".
Reduced event tickets (10%) for sessions and workshops for your friends.
Be up to date about our current events, social projects and new offers by receiving our newsletter.
Short-Term-Membership – 5 Euro: one month
Full Membership – 20 Euro: one year
For our members we offer all services in "Abunndance Payment Mode"  –  attend by paying as much as you can and like of the suggested price.
There's enough for all of us.